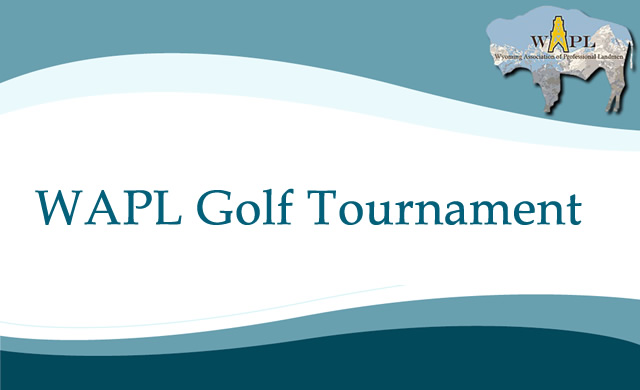 The WAPL Golf Tournament is full. The Educational Seminar and Cocktail Party are still OPEN.
The Wyoming Association of Professional Landman (WAPL) Invitational Golf Tournament will be held at The Powder Horn Golf Club in Sheridan, Wyoming on Friday, August 4, 2023. The Powder Horn Golf Club is a 27-hole championship golf course and has been named by Golfweek Magazine as one of America's top 100 Modern Golf Courses.
The entry fee is $225.00 for WAPL members and $300.00 for non-members.
This includes a tee prize, green fees, cart, lunch, refreshments, banquet dinner, awards, raffle and pin prizes. Nongolfers, spouses or guests may register for dinner by completing the non-golfer portion of the reservation form and enclosing the required fees. Awards, door and pin prizes will be awarded at the banquet dinner that will be at the Powder Horn Clubhouse following the Tournament.
On Friday, check-in will be at 7:30 A.M. for the 8:00 A.M. tee time and 12:30 P.M. for the 1:30 P.M. tee time.
Please make sure you have checked your preferred tee time and we will try to accommodate. However, only 12 teams will be allowed in the morning slot. The Powder Horn Club will provide breakfast burritos for the morning teams and lunch boxes for the afternoon teams. The format is a four-person select-your-own-team scramble. If needed, the Golf Committee will try to place you with a team.
A block of tee times have been reserved for WAPL Golf Tournament participants to play individual practice rounds. You can call the Powder Horn at (307)672-5323 to make reservations once online registration is active.
---
Please consider sponsoring the WAPL Golf Tournament
Without the kind support of our sponsors these events would not be possible. Sponsors also receive early access to register a team for the tournament and recognition at the event.
---
Educational Seminar & Networking Party (Registration opens 6/19/2023)
The educational seminar and Networking party will be on Thursday, August 3rd and the golf tournament and awards dinner on Friday, August 4th.
Get Tickets for Educational Seminar
If you need tickets for only the banquet or networking party without attending the golf tournament you can get individual tickets for those events online here: https://wylandman.com/index.php/wapl-networking-party-and-banquet-tickets
Get Tickets for Networking Party or Banquet Only
The networking party is sponsored by Crowley Fleck PLLP
Should you have any questions concerning the tournament, format, entries, guests, or sponsorships, please contact Mike Coulter at (Cell) 307-751-5029, (Office) 307-461-9086 or This email address is being protected from spambots. You need JavaScript enabled to view it..