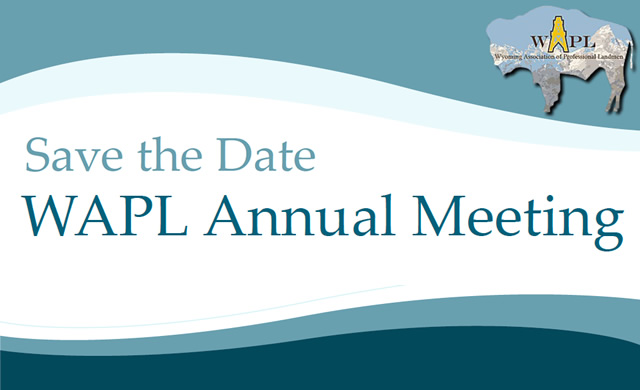 Join us for the WAPL 2021 Annual Meeting at Three Crowns Golf Club (1601 King Boulevard, Casper, WY 82604).
Meet for Breakfast at the Three Crowns Restaurant beginning at 8:00am

prior to the meeting.

The meeting will start at 8:30am and end at 11am.
The Gene George Memorial Golf Tournament starts at noon after the meeting.
Please send your RSVP to Rio Smith at This email address is being protected from spambots. You need JavaScript enabled to view it.
There is also an option to attend via Zoom.
The following speakers will be presenting at the meeting.
Tara Righetti, J.D., CPL - Professor of Law at the University of Wyoming
TOPIC: The Role of Landman Assembling Project for Carbon Storage
Tara Righetti is a professor of law at the University of Wyoming. She is a member of the faculty of the College of Law and the School of Energy Resources. Tara teaches courses related to oil and gas and energy in the law, land management, and Energy MBA programs. Her scholarship explores topics related to energy development, carbon capture, and sustainability including split estates, property rights, and conservation regulation. Prior to joining the University of Wyoming, Tara worked as a landman, counsel, and in executive management at a privately held E&P company. She is licensed to practice in Texas and California and is a certified professional landman.
---
Justin Ballard, J.D. - CEO & Co-Founder of JAI Energy LLC
Topic: Bitcoin Mining Opportunities For Operators
Justin Ballard is the CEO & Co-Founder of JAI Energy LLC, a Bitcoin mining company that offers operators opportunities to significantly increase revenue generated from natural gas as well as customizable flare mitigation solutions.
Prior to starting JAI, Justin worked for 11 years as an attorney and landman at operators in multiple basins across the country. From 2018 to 2021, Justin was the Chief Legal Officer and VP of Land at Century Oil and Gas, LLC, a Powder River Basin focused operator back by Juniper Capital out of Houston, Texas. While at Century, Justin successfully negotiated and closed multiple acquisitions and was responsible for managing over 160,000 acres and over 200 wells. Justin also previously served as General Counsel and Vice President of Land at Sponte Resources where they targeted the liquid rich area of the Haynesville. He also spent time at Indigo Minerals and Anadarko Petroleum Corporation where he gained experience in everything from operations to complex acquisitions and divestitures.
Justin likes to spend his free time fishing, playing basketball and traveling with his family. He and Aubrey, his wife of nearly 17 years have two children, 14-year-old Isabella (multi-time grand champion English style horseback rider) and 9-year-old Jackson (one bad little dude in jiu-jitsu).
---
Pete Obermueller - President of the Petroleum Association of Wyoming
Topic: Western Energy Alliance vs. Joseph R. Biden, Jr., etal and the Effects of the Biden Administration in Wyoming
Pete Obermueller is President of the Petroleum Association of Wyoming, a post he has held since January of 2019. As President, Pete represents Wyoming's oil and gas industry at the local, state and federal level. A graduate of Natrona County High School in Casper, Wyoming, Obermueller holds a Master Degree in Public Policy from the University of Minnesota. Following several years of serving Wyoming in Washington D.C. as an aide to former United States Representatives Barbara Cubin and Cynthia Lummis, Pete moved back to Wyoming in 2013 to head up the Wyoming County Commissioners Association before taking the helm at the Petroleum Association. Pete enjoys a good cup of coffee, a nice bourbon, running, backpacking, and spending time with his wife and two daughters.