WAPL Educational Event 2020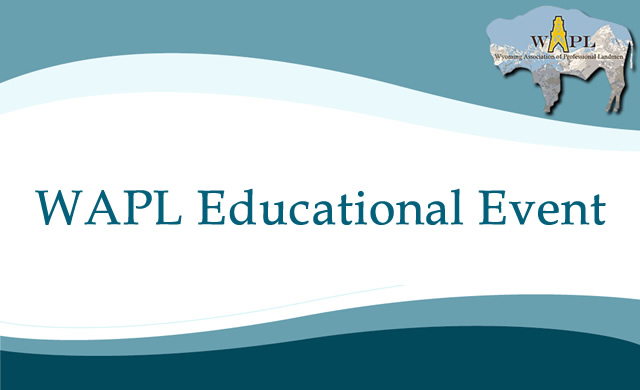 The WAPL Educational Event is sponsored by WAPL and Throne Law Office, P.C.
Event Information:
Thursday, August 6, 2020 – 8 am to 2 pm
The WAPL Educational Event will be held online this year via Zoom. WAPL Members may participate in this event free of charge. Non-members can reach out to WAPL President Aja Clark at 580-504-1506 to pay your $50 non-member registration fee.
Here is the link to register for the educational event:
https://us02web.zoom.us/webinar/register/WN_s6cZl_e7R7O-51cszMYE0g
Educational Credit:
For Landmen: 6 RL/RPL/CPL Continuing Education Hours including 1 Ethics Hour
For Attorneys: WY CLE Credits
Schedule:
8:00-8:30
Introduction and Welcome
Mike Coulter
AAPL President
WAPL-Marc Strahn
8:30-9:30
Priority and Possession in the Pore Space: Considerations for Mineral Operators and Surface Owners
Tara Righetti, UW SER and Law School Professor
9:30-10:30

Ethics in the Oil and Gas Industry
Issues and Overview

Jacob T. Haseman, Throne Law Office, P.C
10:30-10:45
Break
10:45-11:45
NEPA, SCHMEPA, …what is it and why should I care?
Joe Icenogle, Land Manager
Wave Petroleum Operating
11:45-12:15
Lunch/Break
12:15-1:00
Interpretation of Mineral Conveyances in Changing Times: What Did the Parties Intend?
Marilyn S. Kite, Wyoming Supreme Court Justice - Retired
1:00-2:00
Commission Update/Law Update
Rio D. Smith and Jason D. Wasserburger
Throne Law Office, P.C.
Get Tickets for the Networking Party on Thursday night or the Friday Night Banquet
If you want to register for the banquet or only want to attend the networking party without attending the educational event or golf tournament you can get individual tickets for those events online here: https://wylandman.com/index.php/wapl-networking-party-and-banquet-tickets
Event Properties
| | |
| --- | --- |
| Event Date | 08-06-2020 8:00 am |
| Event End Date | 08-06-2020 2:00 am |
| Individual Price | Free / $50 Non-Members |